When:
January 26, 2021 @ 5:00 pm – 6:00 pm
2021-01-26T17:00:00-07:00
2021-01-26T18:00:00-07:00
Where:
Virtual Event
www.facebook.com/thepoisonedpenbookstore/live
Contact:
Patrick Millikin
4809472974
Virtual Event: Tim Dorsey discusses TROPIC OF STUPID.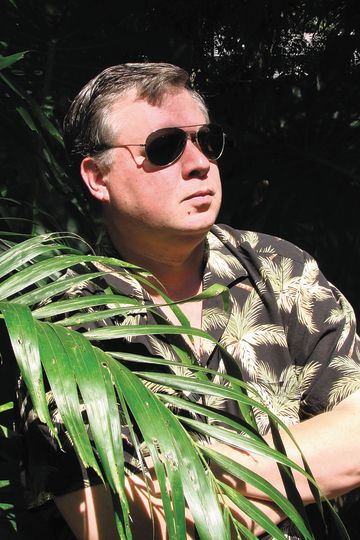 Tim Dorsey. Tropic of Stupid (Morrow, $27.99 Signed). Serge A. Storms embarks on a tour to meet his long-lost relatives in this latest madcap entry in the bestselling series from Florida's "compulsively irreverent and shockingly funny" (Boston Globe) Tim Dorsey.
Devoted Floridaphile Serge Storms is a lover of history, so he's decided to investigate his own using one of those DNA services from late-night TV. Excited to construct a family tree, he and Coleman hit the road to meet his kin. Along the way, he plans to introduce Coleman to the Sunshine State's beautiful parks where he can brush up on his flora, fauna, and wildlife, and more importantly, collect the missing stamps for his park passport book.
But as the old saying goes, the apple doesn't fall far . . .  Serge is thrilled to discover he may be related to a notorious serial killer who's terrorized the state for twenty years and never been caught. Which one of his newfound relatives will be the one to help him hunt down this deranged maniac? Serge doesn't know that a dogged investigator from the Florida Department of Law Enforcement is also hot on the trail.
Then Serge meets a park ranger who's also longing to make a family re-connection. But all is not as it appears on the surface, and Serge's newfound friendship in the mysterious swamps of Florida may lead to deadly results.
Finding his own relatives has made Serge understand the importance of family. Of course he'll do anything to help . . .
Tim Dorsey was born in Indiana, moved to Florida at the age of 1, and grew up in a small town about an hour north of Miami called Riviera Beach. He graduated from Auburn University in 1983. While at Auburn, he was editor of the student newspaper, The Plainsman.
From 1983 to 1987, he was a police and courts reporter for The Alabama Journal, the now-defunct evening newspaper in Montgomery. He joined The Tampa Tribune in 1987 as a general assignment reporter. He also worked as a political reporter in the Tribune's Tallahassee bureau and a copy desk editor. From 1994 to 1999, he was the Tribune's night metro editor. He left the paper in August 1999 to write full time.
Tim has since published twenty-three novels in several languages: Florida Roadkill, Hammerhead Ranch Motel, Orange Crush, Triggerfish Twist, The Stingray Shuffle, Cadillac Beach, Torpedo Juice, The Big Bamboo, Hurricane Punch, Atomic Lobster, Nuclear Jellyfish, Gator A-Go-Go, Electric Barracuda, When Elves Attack, Pineapple Grenade, The Riptide Ultra-Glide, Tiger Shrimp Tango, Shark Skin Suite, Coconut Cowboy, Clownfish Bluea, The Pope of Palm Beach, No Sunscreen for the Dead and Naked Came the Florida Man.
He lives in Florida and will never leave.