When:
March 14, 2020 @ 2:00 pm – 3:00 pm
2020-03-14T14:00:00-07:00
2020-03-14T15:00:00-07:00
Where:
The Poisoned Pen Bookstore
4014 N Goldwater Blvd
Contact:
Patrick Millikin
4809472974
Scott Phillips. That Left Turn at Albuquerque (Soho Press, $26.95). A hardboiled valentine to the Golden State, That Left Turn at Albuquerque marks the return of noir master Scott Phillips.
Douglas Rigby, attorney-at-law, is bankrupt. He's just sunk his last $200,000—a clandestine "loan" from his last remaining client, former bigshot TV exec Glenn Haskill—into a cocaine deal gone wrong. The lesson? Never trust anyone else with the dirty work. Desperate to get back on top, Rigby formulates an art forgery scheme involving one of Glenn's priceless paintings, a victimless crime. But for Rigby to pull this one off, he'll need to negotiate a whole cast of players with their own agendas, including his wife, his girlfriend, an embittered art forger, Glenn's resentful nurse, and the man's money-hungry nephew. One misstep, and it all falls apart—will he be able to save his skin?
Written with hard-knock sensibility and wicked humor, Scott Phillips's newest novel will cement him as one of the great crime writers of the 21st century.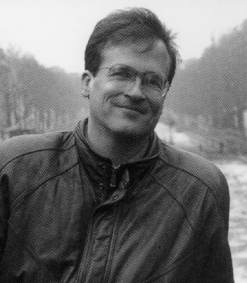 Scott Phillips is the author of three of the most highly acclaimed crime novels of recent years. His debut novel, The Ice Harvest, was a New York Times Notable Book of the Year and won the California Book Award, a Silver Medal for Best First Fiction, and was a finalist for the Edgar Awards, the Hammett Prize and the Anthony Award. It is now a major motion picture from Focus Features. Its followup The Walkaway continued his success, with The New York Times calling it "wicked fun." His third novel, Cottonwood, is now out in paperback.
   Born in Wichita, Kansas, where much of his first two books are set, Scott lived for many years in Paris, and then in Southern California, where he worked on screenplays. Those who frequent Showtime in the middle of the night may see his name on Crosscut (1996). He now lives in St. Louis with his wife and daughter.