When:
November 12, 2020 @ 6:00 pm – 7:00 pm
2020-11-12T18:00:00-07:00
2020-11-12T19:00:00-07:00
Where:
Virtual Event
www.facebook.com/thepoisonedpenbookstore/live
Virtual Event: Nev March discusses Murder in Old Bombay with special guest host, Sujata Massey. Watch the program on Facebook Live. Signed copies available to order!
Nev March. Murder in Old Bombay (St Martins Press, $26.99 Signed). In 19th century Bombay, Captain Jim Agnihotri channels his idol, Sherlock Holmes, in Nev March's Minotaur Books/Mystery Writers of America First Crime Novel Award-winning debut.
In 1892, Bombay is the center of British India. Nearby, Captain Jim Agnihotri lies in Poona military hospital recovering from a skirmish on the wild northern frontier, with little to do but re-read the tales of his idol, Sherlock Holmes, and browse the daily papers. The case that catches Captain Jim's attention is being called the crime of the century: Two women fell from the busy university's clock tower in broad daylight. Moved by Adi, the widower of one of the victims — his certainty that his wife and sister did not commit suicide — Captain Jim approaches the Parsee family and is hired to investigate what happened that terrible afternoon.
But in a land of divided loyalties, asking questions is dangerous. Captain Jim's investigation disturbs the shadows that seem to follow the Framji family and triggers an ominous chain of events. And when lively Lady Diana Framji joins the hunt for her sisters' attackers, Captain Jim's heart isn't safe, either.
Based on a true story, and set against the vibrant backdrop of colonial India, Nev March's Minotaur Books/Mystery Writers of America First Crime Novel Award-winning lyrical debut, Murder in Old Bombay, brings this tumultuous historical age to life.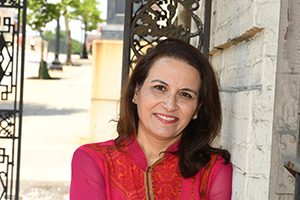 Sujata Massey is the author of fourteen novels, two novellas and numerous short stories that have been published in eighteen countries. Her novels have won the Agatha, Lefty and Macavity awards and been finalists for the Edgar, Anthony and Mary Higgins Clark prizes. Sujata writes mystery and suspense fiction set in pre-Independence India, as well as a modern mystery series set in Japan.
Born in England to parents from India and Germany, Sujata was raised primarily in St. Paul, Minnesota, although her home for almost thirty years has been Baltimore, Maryland. She earned a B.A. in Writing Seminars at Johns Hopkins University and wrote features for the Baltimore Evening Sun newspaper before becoming a novelist.