When:
January 22, 2021 @ 4:00 pm – 5:00 pm
2021-01-22T16:00:00-07:00
2021-01-22T17:00:00-07:00
Where:
Virtual Event
www.facebook.com/thepoisonedpenbookstore/live
Contact:
Patrick Millikin
4809472974
Virtual Event: Laura Joh Rowland discusses Portrait of Peril with special guest host Karen Odden. Signed books available to order.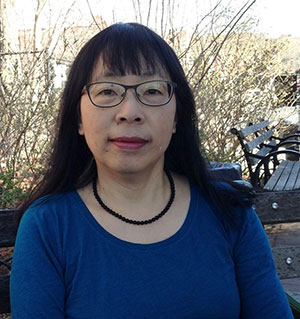 Laura Joh Rowland. Portrait of Peril (Crooked Lane Books, $26.99). For fans of C. S. Harris comes Laura Joh Rowland's fifth Victorian mystery where Sarah must confront her own ghosts–and face her most elusive and deadly adversary yet.
Victorian London is a city gripped by belief in the supernatural–but a grisly murder becomes a matter of flesh and blood for intrepid photographer Sarah Bain.

London, October 1890. Crime scene photographer Sarah Bain is overjoyed to marry her beloved Detective Sergeant Barrett–but the wedding takes a sinister turn when the body of a stabbing victim is discovered in the crypt of the church. Not every newlywed couple begins their marriage with a murder investigation, but Sarah and Barrett, along with their friends Lord Hugh Staunton and Mick O'Reilly, take the case.
The dead man is Charles Firth, whose profession is "spirit photography"– photographing the ghosts of the deceased. When Sarah develops the photographs he took in the church, she discovers one with a pale, blurred figure attacking the victim. The city's spiritualist community believes the church is haunted and the figure is a ghost. But Sarah is a skeptic, and she and her friends soon learn that the victim had plenty of enemies in the human world–including a scientist who studies supernatural phenomena, his psychic daughter, and an heiress on a campaign to debunk spiritualism and expose fraudulent mediums.
In the tunnels beneath a demolished jail, a ghost-hunting expedition ends with a new murder, and new suspects. While Sarah searches for the truth about both crimes, she travels a dark, twisted path into her own family's sordid history. Her long lost father is the prime suspect in a cold-case murder, and her reunion with him proves that even the most determined skeptic can be haunted by ghosts from the past.
Laura Joh Rowland is a bestselling author of historical mystery novels. Her newest series stars Miss Sarah Bain, a photographer in Victorian London. The latest book is The Hangman's Secret. The Woman in the Veil will be published January 7, 2020. Laura's previous series, which is set in medieval Japan and features samurai detective Sano Ichiro, has been published in 21 countries, been nominated for the Anthony Award and the Hammett Prize, won RT Magazine's Reader's Choice Award, and been included in The Wall Street Journal's list of the five best historical mystery novels. Laura has also written a historical suspense series about Charlotte Bronte, the famous Victorian author.
Laura holds a Bachelor of Science and a Master of Public Health degree from the University of Michigan. She is a former aerospace scientist, a painter, and a cartoonist. She lives in New York City with her husband Marty.
Karen Odden's interest in the Victorian era goes back to her New York University PhD dissertation. In it, she examined how descriptions of injuries from nineteenth-century railway disasters in popular novels, medical literature, and legal documents helped to create a discourse out of which Freud and other psychologists drew their ideas of "trauma."
By its very nature, a traumatic injury, with its long, belated trail of symptoms, calls us to look backward, to examine the past. Karen loves writing mysteries partly because the narrative always drives backwards as well as forward. That is, if there is a dead body on page 5, the rest of the book is the story of figuring out how it got there in the first place. In Karen's books, childhood events shape the characters' beliefs and assumptions, which they bring to later experiences, often at their peril. Karen loves family secrets and marginal voices, the smelly Thames and the costermongers of 1870s London, medical puzzles and odd facts about poison, anything Scotland Yard, the true weird stories that surround musicians and artists, and good old-fashioned romantic suspense.
Some of her favorite books as a child were the Anne of Green Gables series, Julie of the Wolves, all of the Louisa May Alcott books, Caddie Woodlawn, and The Witch of Blackbird Pond. Karen grew up with the works of Mary Stewart and Victoria Holt, which she found in her grandmother's library among the bodice-rippers and historical fiction, and with their amateur sleuths and character-driven plots, they still influence her writing.
Karen served as an Associate Lecturer at the University of Wisconsin-Milwaukee and taught classes in English literature at New York University and the University of Michigan-Ann Arbor. She has contributed essays to books and journals, including Studies in the Novel, Journal of Victorian Culture, and Victorian Crime, Madness, and Sensation; she has written introductions for Barnes and Noble's Classics Series; and she served as an Assistant Editor for the academic journal Victorian Literature and Culture (Cambridge UP). Prior to receiving her Ph.D. in English, she worked in publishing at Harcourt Brace Jovanovich and McGraw-Hill, as a Media Buyer for Christie's auction house in New York, and as a bartender at the airport in Rochester, where she honed her listening skills. She is a member of Sisters in Crime (National), Desert Sleuths (SinC Arizona) and Mystery Writers of America. Her first book, A Lady in the Smoke, was a USA Today Bestseller and won the 2017 New Mexico-Arizona award for eBook Fiction. Her second book, from William Morrow/Harper Collins, A Dangerous Duet, won the New Mexico-Arizona book award for Historical Fiction in 2019; and her third Victorian mystery, A Trace of Deceit, was published in December 2019.
She is currently at work on her fourth Victorian mystery, also set in 1870s London. In it, her heroine Gwendolyn Manning has a friend Lewis Ainsley, a political economist and journalist, who has just returned to London from Africa with Henry Morton Stanley (of "Dr. Livingston, I presume" fame). Lewis plans to write a book exposing the horrors of the ivory and slave trade that he witnessed, but there are many powerful men who do not want that story told, and Lewis is murdered. When his wife Charlotte is suspected, Gwendolyn seeks to prove her innocence—but then Gwendolyn herself becomes the police's prime suspect.
Karen currently resides in Scottsdale, Arizona with her husband, her two children, and her ridiculously cute rescue beagle, Rosy.