When:
November 18, 2020 @ 4:00 pm – 5:00 pm
2020-11-18T16:00:00-07:00
2020-11-18T17:00:00-07:00
Where:
Virtual Event
www.facebook.com/thepoisonedpenbookstore/live
Contact:
Patrick Millikin
480 947 2974
Virtual Event: Debut novelist Halley Sutton discusses The Lady Upstairs with special guest host Amy Gentry. Watch the event on Facebook Live!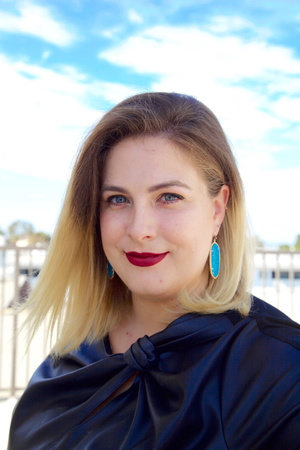 Halley Sutton. The Lady Upstairs (Penguin, $16.00). A modern-day noir featuring a twisty cat-and-mouse chase, this dark debut thriller tells the story of a woman who makes a living taking down terrible men…then finds herself in over her head and with blood on her hands. The only way out? Pull off one final con.
Jo's job is blackmailing the most lecherous men in Los Angeles–handsy Hollywood producers, adulterous actors, corrupt cops. Sure, she likes the money she's making, which comes in handy for the debt she is paying off, but it's also a chance to take back power for the women of the city. Eager to prove herself to her coworker Lou and their enigmatic boss, known only as the Lady Upstairs, Jo takes on bigger and riskier jobs.
When one of her targets is murdered, both the Lady Upstairs and the LAPD have Jo in their sights. Desperate to escape the consequences of her failed job, she decides to take on just one more sting–bringing down a rising political star. It's her biggest con yet–and she will do it behind the Lady's back, freeing both herself and Lou. But Jo soon learns that Lou and the Lady have secrets of their own, and that no woman is safe when there is a life-changing payout on the line.
A delicious debut thriller crackling with wit and an unforgettable feminist voice, The Lady Upstairs is a chilling and endlessly surprising take on female revenge.
Halley Sutton is a writer and editor who lives in Los Angeles. She is a Pitch Wars mentor and holds a bachelor's degree in creative writing from the University of California Santa Cruz, and a master's degree in writing from Otis College of Art and Design. The Lady Upstairs is her debut novel.
Amy Gentry is the author of Good as Gone, a New York Times Notable Book, and Last Woman Standing. She is also a book reviewer and essayist whose work has appeared in numerous outlets, including the Chicago Tribune, Salon, the Paris Review, the Los Angeles Review of Books, and the Austin Chronicle. She holds a PhD in English from the University of Chicago and lives in Austin, Texas. Her forthcoming book, Bad Habits, will be released in February 2021.
Last Woman Standing (Houghton Mifflin, $15.99). From the author of Good as Gone ("So gripping you might want to start to question your own family's past"—Entertainment Weekly) comes a brilliant and timely thriller:Strangers on a Train by way ofThelma and Louise.
Dana Diaz is an aspiring stand‑up comedian—a woman in a man's world. When she meets a tough computer programmer named Amanda Dorn, the two bond over their struggles in boys' club professions. Dana confides that she's recently been harassed and assaulted while in L.A., and Amanda comes up with a plan: they should go after each other's assailants, Strangers on a Train–style. But Dana finds that revenge, however sweet, draws her into a more complicated series of betrayals. Soon her distrust turns to paranoia, encompassing strangers, friends—and even herself. At what cost will she get her vengeance? Who will end up getting hurt? And when it's all over, will there be anyone left to trust?