When:
September 12, 2020 @ 2:00 pm – 3:00 pm
2020-09-12T14:00:00-07:00
2020-09-12T15:00:00-07:00
Where:
Virtual Event
www.facebook.com/thepoisonedpenbookstore/live
Anne Perry. A Question of Betrayal (Ballantine, $27.99, unsigned book with a letter to Poisoned Pen customers signed by Anne Perry).  On her first mission for MI6, the daring young photographer at the heart of this thrilling new mystery series by bestselling author Anne Perry travels to Mussolini's Italy to rescue the lover who betrayed her.
Britain's secret intelligence service, MI6, has lost contact with its informant in northern Italy, just as important information about the future plans of Austria and Nazi Germany is coming to light. And young Elena Standish, to her surprise, is the only person who can recognize MI6's man—because he is her former lover. Aiden Strother betrayed her six years before, throwing shame on her entire family. Now, with so much to prove, Elena heads to Trieste to track down Aiden and find out what happened to his handler, who has mysteriously cut off contact with Britain.
As Elena gets word of a secret group working to put Austria in the hands of Germany, her older sister, Margot, is in Berlin to watch a childhood friend get married—to a member of the Gestapo. Margot and Elena's grandfather, the former head of MI6, is none too happy about the sisters' travels at this tumultuous time, especially when a violent event at home reminds him that even Britain is growing dangerous. As his own investigation collides with his granddaughter's, what's at stake on the continent becomes increasingly frightening—and personal.
Against the backdrop of a rapidly changing Europe, New York Times bestselling author Anne Perry crafts a novel full of suspense, political intrigue, and the struggle between love and loyalty to country.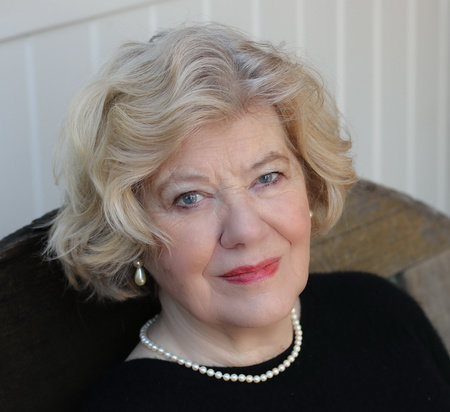 Anne Perry's publishing career began with The Cater Street Hangman. Published in 1979, this was the first book in the series to feature the Victorian policeman Thomas Pitt and his well-born wife Charlotte. This is arguably the longest sustained crime series by a living writer. Murder on the Serpentine is the latest (32nd) in the series.  She has now started a series featuring their son Daniel, beginning with 21 Days(2017).
In 1990, Anne started a second series of detective novels with The Face of a Stranger. These are set about 35 years before and features the private detective William Monk and volatile nurse Hester Latterly. The most recent of these (24th in the series) is Dark Tide Rising.
Anne won an Edgar award in 2000 with her short story "Heroes". The main character in the story features in an ambitious five-book series set during the First World War, which were published between 2003 and 2007. Anne is now working on more titles in the Pitt and Monk series, both of which are under option.
None of her books has ever been out of print, and they have received critical acclaim and huge popular success: over 20 million books are in print world-wide. Her books have appeared on bestseller lists in a number of foreign countries, where she has also had excellent reviews.   Her books regularly appear in the New York Times bestseller list, and have also been bestsellers in France, Germany and Canada.  The Times selected her as one of the "100 Masters of Crime", and in 2015 she was awarded the Premio de Honor Aragón Negro.